Klimkin announced the proposals from the foreign Ministry on the format of the visa regime between Ukraine and the Russian Federation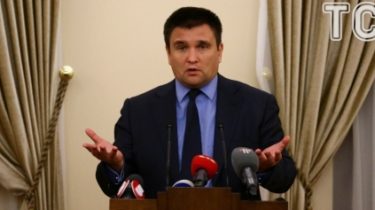 Klimkin announced the proposals from the foreign Ministry on the format of the visa regime between Ukraine and the Russian Federation
Pavlo Klimkin© Reuters
At the same time he stressed that on the territory of Russia is home to a large number of Ukrainians, against whom the Kremlin can arrange provocations.
Ukraine has to move towards in order to control who is coming from Russia. This was stated by foreign Minister Pavlo Klimkin in the air "Sedanka z 1+1".
In response to a question from Dniawhether to introduce a visa-free regime with Russia, the Minister noted that from this country, you can expect provocations in the result of such decision.
See also: Klimkin says that the EU does not fear a large migration of Ukrainians after giving bezveza
"We have a war with Russia, both classic and hybrid. But at the same time, we have several millions of our fellow citizens in Russia. And Russia knows what kind of provocation to do in the case of when we are going to introduce visa-free regime. Now it is analyze and then come out with a proposal on how we will do in the time", – said Klimkin.
He also noted that "the visa regime is the relationship between civilized countries."
Comments
comments