Pardoned by the President will give the militants – Gerashchenko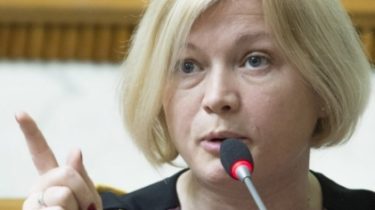 Pardoned by the President will give the militants – Gerashchenko
© UNIAN
First Vice-speaker said the number of people pardoned Poroshenko.
Ukraine will not exchange 15 prisoners, which before was pardoned by the President of Ukraine Petro Poroshenkoand would send them to the militants.
Wrote about this on his page in Facebook the first Vice-speaker, the representative of Ukraine in the humanitarian group for talks in Minsk Irina Gerashchenko.
"Before the New year, 15 people from those who are wanted ORDO, the Ukrainian side will have mercy as a gesture of humanism," she said.
According to Gerashchenko, some media reported that the pardoned men had someone exchange, but this is a mistaken interpretation of events, as the Ukrainian side is an act of humanism.
"We are talking about the people who asked the other side. We hope that so the humanity should be everyone else. We are looking for ways to compromise and release the question of release. But from the other hand, no specific signal is not. Therefore, I ask the media to correctly apply the information," she added.
Gerashchenko said that the Ukrainian side in the coming days will be released from detention on 15 previously convicted persons as an act of humanity, most of whom were pardoned by the President, among them 6 women, there are elderly and sick persons.
"We expect that the other side will show humanism on the eve of holidays and the process of release of hostages will be unlocked. This issue was entirely devoted in Minsk, the work of humanitarian groups. A few hours of heavy conversation," she said.
Recall, December 18 from captivity of fighters have been released the last "cyborg" Taras Kolodiy. The man was in captivity for almost 2 years.
Besides, the militants promised to release 5 teenagers who are suspected of "subversive activities". Children will be released under house arrest until the New year.
Comments
comments