Gontareva admitted the possibility of the introduction of 1,000-hryvnia banknotes in Ukraine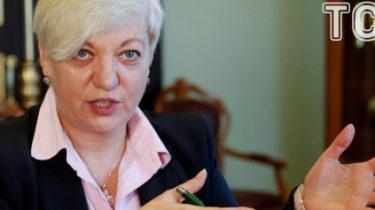 Gontareva admitted the possibility of the introduction of 1,000-hryvnia banknotes in Ukraine
© Reuters
The head of the NBU said that the bill will not be a portrait of Panteleimon Kulish.
In Ukraine may introduce a bill with nominal value of 1000 hryvnia.
Hinted at it, Chairman of the National Bank of Ukraine Valeriy Gontareva broadcast Radio News.
The host asked her whether or not such a bill next year in connection with raising the minimum salary up to 3200 UAH. Periodically appears information that this bill already, and that it depicts the writer Panteleimon Kulish.
"I can tell you that there is no Panteleimon, and the rest yet keep in secret," – said Gontareva.
Comments
comments