Poltorak commented on the situation with the evacuation of wounded soldiers on the arc Svetlodarsk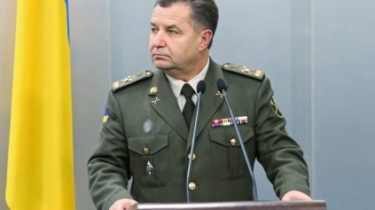 Poltorak commented on the situation with the evacuation of wounded soldiers on the arc Svetlodarsk
Stepan Poltorak© Ministry of defence of Ukraine
MPs reproached the Minister, that military take out on older cars, volunteers and ordinary citizens.
The Minister of defence of Ukraine Stepan Poltorak said that the personnel in the zone of the ATO are provided with means of evacuation.
He said this during an Hour of questions to the government, UNIAN.
Read also: three days of fighting in Svetlodarsk arch enemy released 1500 shells
The deputies asked him concerning the organization of the inspection the availability of transport to evacuate the wounded soldiers.
"I would ask that the data that we'll be performing all over the country have been tested and true. Today the staff which carries out fighting tasks in zone anti-terrorist operation on the basis of our capabilities, provided with means of escape", – said the Poltorak, commenting on the statement that the arc Svetlodarsk "volunteers and our citizens on their Tarantino take out the wounded."
Poltorak added that this year was signed the "contract for 60 cars and also planned the next 40".
Per night militants attacked twice Svetlodarsk arc
TSN. Wounds
Today, 09:33
Add to favourites
At least three wounded in a night at the front. This information is from private sources TSN. It is now known that all the wounded guys kept the defense on the arc Svetlodarsk. Injuries they light, but to take the injured to hospital is not possible due to shelling. Shooting in the East does not subside. Selo Myronivka three times fired from artillery 152 caliber. With grenade launchers and mortars hit on the plant and Verhnetoretskom.
As reported, on December 18 militants unleashed a fierce battle with the military forces of the antiterrorist operation in the area of Svetlodarsk arc, in the Donetsk region.
According to official figures, killed at least five Ukrainian military, another six were injured, ten people were wounded or injured, one was taken prisoner. The journalist Yury Butusov reported seven dead.
According to intelligence reports, the enemy's losses amounted to at least 25 people were killed and 30 wounded.
More about the situation near Svetlodarsk see the link →
Comments
comments