Putin called their version of the causes of the bloody events in the Donbas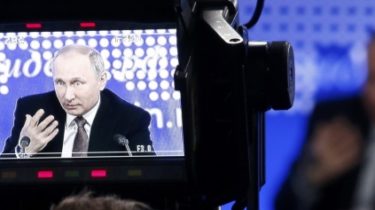 Putin called their version of the causes of the bloody events in the Donbas
Vladimir Putin© Reuters
The Russian leader denied his guilt.
Russian President Vladimir Putin during a press conference said that the occupation of the Crimea and events in Donbas has led Ukraine's attempts to join the Association agreement with the EU.
Putin is in the tradition of the propaganda of the Russian Federation has declared an "unconstitutional coup" in Ukraine and his support of the United States and Europe.
"First, our American and European friends were the guarantors of the agreement between Yanukovych and the opposition. The next day everyone was filed, was captured by the authorities. Instead of condemning anti-corruption revolution (…) instead supported. This has led to the loss of the Crimea to Ukraine and is known for sad, tragic, bloody events in Donbass", – he said.
The root of this situation, Putin sees "the impossibility of coordination of the positions" on Ukraine's accession to the Association agreement with the European Union.
"We aren't to blame? No, of course", he added.
See also: to Release, just for the fact that the Director? Putin responded to calls for the release of Ukrainians held
Speaking about the prospects of providing bezveza Ukrainians Putin said it was "a big question".
He also said he was ready to cancel the counter only when the US and Europe will abandon restrictive measures against Russia.
We will remind, earlier Russian President Vladimir Putin expressed the opinion that after the introduction of a visa-free regime between Ukraine and the EU will increase the number of Ukrainians who will seek work in Europe.
"The visa regime in Europe is an anachronism of the cold war and need to get rid of it as soon as possible. If Ukrainian citizens will have the right of visa-free travel to Europe, I think it is the right step in the right direction. But, as far as I know, we are talking about the granting of visas without the right to work. The question arises whether to increase the flow of labor from Ukraine to Europe? Of course, will increase," he said.

Comments
comments