In Havana bridge Kiev Daewoo at great speed crashed into a Toyota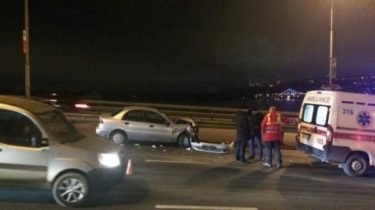 In Havana bridge Kiev Daewoo at great speed crashed into a Toyota
Kiev
Today, 18:47
1 of 5

© Photo by Anton Strashko/TSN

1 of 5

© Photo by Anton Strashko/TSN

1 of 5

© Photo by Anton Strashko/TSN

1 of 5

© Photo by Anton Strashko/TSN

1 of 5

© Photo by Anton Strashko/TSN
© Photo by Anton Strashko/TSN

© Photo by Anton Strashko/TSN

© Photo by Anton Strashko/TSN

© Photo by Anton Strashko/TSN

© Photo by Anton Strashko/TSN
Two people required hospitalization.
In Kiev on the Havana bridge accident. In the Toyota, who was standing at the traffic lights at a red light, flew Daewoo.
As reported by TSN cornpone, injured the driver and passenger of Daewoo, which with traumatic brain injury dostavili by ambulance to the hospital. Doctors suspect the chauffeur car of the culprit is alcohol. The driver of the Toyota in the accident were not injured.
On this day in the capital had been two accidents. So, at Lobanovsky Opel driver, overtaking flow in the opposite lane, rammed the "Tavria", which is rejected on a passing Daewoo. Seriously injured father and son in "Tavria", they admitted to the hospital. And on Avenue of Victory the culprit of the accident was the driver of a luxury BMW GT, which flew in a Chevrolet Aveo, but changed direction and injured a pedestrian.
The TSN reporter Anton Strashko
Comments
comments