Israel offended by Ukraine. Netanyahu canceled a visit Groisman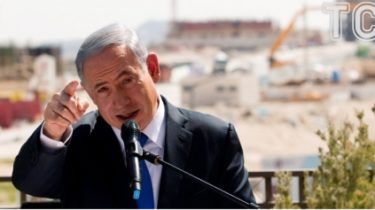 Israel offended by Ukraine. Netanyahu canceled a visit Groisman
Prime Minister Benjamin Netanyahu© Reuters
Ukraine supported the controversial UN security Council resolution against Israeli settlement activity.
Saturday, December 24, Prime Minister Benjamin Netanyahu canceled an official visit to the country, Prime Minister of Ukraine Vladimir Groisman. All due to the fact that Ukraine supported the controversial resolution of the UN security Council regarding the Israeli settlements.
This was reported by Israeli news Agency Ynet. Visit Groisman was scheduled for next week, Deutsche Welle reports.
In the resolution the UN security Council demands that Israel halt settlement activity in the Palestinian territories. In the document it is noted that the policy of Israel in establishing settlements in the West Bank of the Jordan river and construction in East Jerusalem is a violation of international law and is an obstacle to resolving the Israeli-Palestinian conflict.
Read also: Kerry explained why the U.S. refrained from blocking anti-Israel UN resolution
Earlier, Netanyahu announced the reassessment of Israel's relations with the UN.
"I've instructed the Ministry of foreign Affairs to finalise within a month a revaluation of our contacts with the UN, including the financing of the UN institutions and the presence of UN representatives in Israel," Netanyahu was quoted by Reuters.
The resolution itself, Netanyahu called "biased and disgraceful". Directly accused the administration of President Barack Obama's "insidious maneuver". The United States has used its veto on this document.
"Half a million Syrians killed in Syria, tens of thousands cut in the Sudan. The middle East is aflame, but the Obama administration and the UN security Council decided to attack the only middle Eastern democracy" – quoted Netanyahu newspaper, Haaretz.
Israeli Prime Minister stressed that his country will struggle for cancellation of the decision of the UN security Council, which "not only brings the world and pushes him on."
Read also: Israel is ready to employ 20 thousand Ukrainian builders
Meanwhile, the position of the United States protects an adviser to President Obama, Ben Rhodes. He said that "the solution of two States for two peoples cannot be just a slogan" and added that the authorship of this resolution does not belong to US.
Recall that Israel responded to the UN resolution the withdrawal of ambassadors and the deprivation of aid to Senegal.
Comments
comments