In Kiev the Director of the burnt market near the metro station "Forest" was summoned for questioning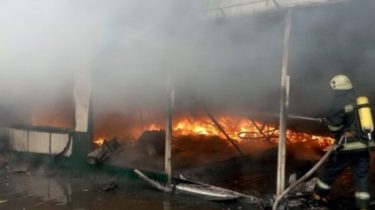 In Kiev the Director of the burnt market near the metro station "Forest" was summoned for questioning
© Department gschs of Kiev
The market has not been tested since 2014.
In fact the fire in the market near the metro station "Forest" in Kiev submitted to the unified register of pre-judicial investigations. The market Director called in for questioning.
About this on air of Gromadsky said Alexander Kosovo — head of the Desnyanskiy police Department of Kyiv.
After questioning the Director, the investigator is established, the basis on which the market functioned.
Svetlana Vodolaga, press Secretary of the chief Department of the State service on emergency situations in Kiev, said that the market has not been tested since 2014 due to the moratorium on testing. The causes of the fire engaged in law enforcement.
Right now the police are considering different versions: from arson to violations of fire safety rules. On the scene there are 5 units of special equipment and a crane for parsing structures.
Read also: In Kiev during a massive fire on the market and discovered the charred body
We will remind, today, on the 25th of December, in Kiev, near the metro station "Forest" was a powerful fire. The fire was halted the operation of the subway at two stations. Later it became known that the fire occurred in the warehouses with second-hand.
In Kiev burned a huge market of second hand goods
TSN. Week
Yesterday, 22:30
Add to favourites
Closed two metro stations in a Forest. Two thousand square meters of land broke out in a matter of minutes. Dozens of fire engines and hundreds of rescuers to localize the flames for several hours. On the ashes found a charred unrecognizable body.
Comments
comments