Israel's Ambassador called on the foreign Ministry not to stir up anti-Ukrainian hysteria media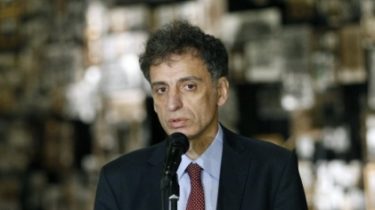 Israel's Ambassador called on the foreign Ministry not to stir up anti-Ukrainian hysteria media
© UNIAN
The Ministry wanted to hear explanations about the cancellation of the visit of Volodymyr Groysman in Israel.
The Ambassador of Israel in Ukraine Eliav Belotserkovsky was summoned to the foreign Ministry of Ukraine.
About it reports "Interfax-Ukraine" with reference to its sources in the Ministry.
"The Israeli Ambassador was summoned to the Ukrainian foreign Ministry to provide explanations about the cancellation of the visit of the Ukrainian Prime Minister in Israel", – stated in the message.
The Israeli Ambassador urged "to stop fanning anti-Ukrainian hysteria".
We will remind, the UN Security Council adopted a resolution that recognizes Israel's illegal settlements in the Palestinian territory, including East Jerusalem. During the voting, the US representative to the UN abstained from voting.
See also: Diplomatic scandal. Ukraine has angered Israel and Karaganda on offense trump
In the final document urge Israel to cease the construction of settlements in the occupied Palestinian territory. Such settlements are called "a flagrant violation of international law" and such, that have no legal force. The security Council demanded that Israel immediately cease settlement activity. Tel Aviv refused to recognize the resolution and accused the Obama administration into agreements with the UN behind of tel Aviv.
The Ukraine voted for a document that has caused a sharp reaction of Israel. At the Permanent mission of Ukraine to the UN, said that "there are fundamental public issues, the position of which can not and should not change depending on a political conjuncture".
Ukraine adhered to the international law when they voted not in favor of Israel
TSN. Wounds
Today, 12:39
Add to favourites
The foreign Ministry of Ukraine commented on the diplomatic row with Israel. During the voting on the UN resolution about Israel Ukraine was guided by respect for international law because for example felt the tragic consequences of its violation. After the UN General Assembly in Kiev voted against Israel's right to build settlements in the Palestinian territories, relations between Ukraine and Israel deteriorated sharply.
Comments
comments