The Ukrainian Ombudsman was able to see political prisoners in annexed Crimea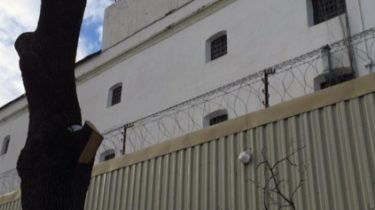 The Ukrainian Ombudsman was able to see political prisoners in annexed Crimea
© Bogdan Kriklivenko / Facebook
Lutkovska has allowed, in particular, to meet with the Deputy Chairman of the Mejlis Akhtem Chigusa.
The occupation authorities of the Crimea allowed the Ukrainian Ombudsman Valeria Lutkovskaya to visit political prisoners in jail.
This was the head of the Secretariat of the Ombudsman Bogdan Kriklivenko reported on his page on Facebook.
"It happened, we in Simferopol! After 3 months, and very serious the last 2 days of negotiations we managed to get the opportunity to meet with political prisoners being held in the Crimea, and also those prisoners who have requested transfer to the mainland" – he wrote.
According to Kriklivenko, the Ombudsman asked to see 42 people held, but the occupants were provided the opportunity to meet with only three, among which accused the organization of "mass disturbances, accompanied by violence and destruction of property" at the walls of BP of the Crimea in February 2014, when there was a rally for unity of Ukraine, Deputy Chairman of the Mejlis Akhtem Chiygoz.
"This official visit of the Commissioner to its citizens, even if the territory is temporarily occupied. We don't leave! The struggle continues!" – he said, noting that along with Lutkovska on the territory of the prison in Crimea was also the Commissioner for human rights of the Russian Federation Tatiana Moskalkova.
We will remind, earlier the human rights activist said, as in the annexed Crimea, the FSB with passion interrogates the Crimean Muslims. According to political prisoners, security officers mock them and use physical force.
Comments
comments