Under Svetlodarsk killed 18 soldiers of the Russian Federation, Luhansk morgue overflowing – exploration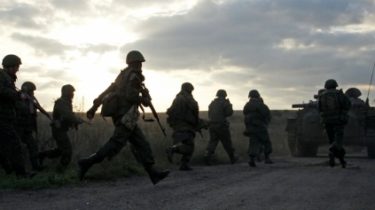 Under Svetlodarsk killed 18 soldiers of the Russian Federation, Luhansk morgue overflowing – exploration
© Reuters
The enemy forces suffered significant losses in the past week.
From 19 to 25 December in the area of Svetlodarsk in the Donbas were killed 18 military army corps of the Armed forces, and another 38 injured.
About it reports a press-service of the Main Directorate of intelligence.
The enemy suffered losses due to attempts to occupy new positions on "Svetlodarsk ledge" and violations during the transportation of weapons and ammunition, poor conditions of service and medical care.
"During the period 19-25 December of this year, the enemy's losses amounted to 18 killed and 38 wounded. Of them consisting of 9 separate assault infantry regiment of the marine corps (Novoazovsk) 1 AK (Donetsk) of the armed forces three soldiers were killed and five wounded. Composed of 2 separate motorized rifle brigade (Lugansk) 2 AK of the armed forces wounded one soldier. Consisting of 7 separate motorized rifle brigade (Bryanka) 2 AK 15 soldiers killed and 32 wounded", – stated in the message.
Also according to scouts, in civilian hospitals temporarily occupied Lugansk imposed a regime of access restrictions, visitors in connection with the concealment of placing a large number of wounded soldiers of the Russian occupation forces.
"The main morgue of the city hospital filled with dead Russian soldiers. In the medical institutions in the temporarily occupied territories of the Luhansk region is the discharge of patients civilians to free up the seats for wounded soldiers", – reported in Gur.
We will remind, on December 18, militants have waged a fierce battle with the military forces of the antiterrorist operation in the area of Svetlodarsk arc, in the Donetsk region. The shelling is still going on. Ukrainian military took the fight, threw the enemy forces and carried out a counterattack into the flank of the enemy.
December 23, the Ukrainian military regained control of the village of Novoluganskoe in the arc Svetlodarsk.
Mystery Svetlodarsk arc: what really happens on the frontline
TSN. Week
Yesterday, 21:49
Add to favourites
The shooting did not abate during the week. First, the defense Ministry reported that, after powerful artillery fire on positions of forces ATO were attacked by separatists. Subsequently, the Secretary of the NSDC Turchynov stated that in fact the Ukrainian military counterattacked. The operation led to the greatest losses of the Ukrainian army for the last five months.
Comments
comments