In the Kiev regional Council instead of the Deputy from "opposition bloc" voted unknown girl – activists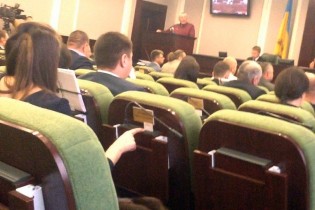 In the Kiev regional Council instead of the Deputy from "opposition bloc" voted unknown girl – activists
© Public movement "CHESNO"
She pressed the button several times instead.
In the Kiev regional Council on December 26 for the Deputy from "Oppositional block" Nikolay Furtick voted an unknown woman.
It is reported by the Public movement Honestly.
See also: Polish MP expelled from the party and threatened with prosecution for "knopkodavstvo"
It is noted that it was only one session, during which Fordice was absent, but he pressed the girl in the blue dress with the camera. The vote has occurred for the inclusion in the agenda the question of amending the program to support the development of theatrical and musical art in the Kiev region in the years 2016-2018 in terms of increase in appropriations for the Kiev musical academic theatre named after Saksaganskogo in 2016 to provide wages to workers.
The Deputy from "opposition bloc" Svetlana Birch did not want to answer the question, why didn't she react when, instead of the deputies from her faction has repeatedly voted an unidentified person.
It is noteworthy that between voting for Furtick third party from time to time moved around the room with a professional SLR camera and took pictures of the deputies. In social networks, the journalists found a former employee of the press service of the regional Council – Oksana Kovalchuk – similar to the extraneous person who voted for Furtick.
In the end, the girl, suspecting that her take on the tablet, left the hall just before the vote on the budget. Then, instead of Fordice, looking back, cropadile Svetlana Birch.
We will remind, in October the Kiev city Council had to cancel the vote of the considered projects in one day because of the revealed fact of not personal vote one of the deputies.
Comments
comments