Kiev train was killed by a Russian who ran the rails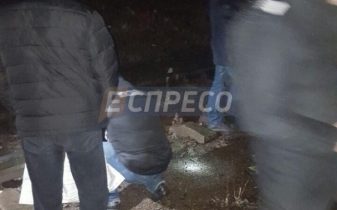 Kiev train was killed by a Russian who ran the rails
Kiev
Today, 20:01
1 of 5

© Espresso TV

1 of 5

© Espresso TV

1 of 5

© Espresso TV

1 of 5

© Espresso TV

1 of 5

© Espresso TV
© Espresso TV

© Espresso TV

© Espresso TV

© Espresso TV

© Espresso TV
The man died on the spot.
In Kiev city train, which was moving from the station Darnitsa, was killed by a man.
The tragedy occurred on the North track of the Central railway station in Kiev, reports "espresso."
The man who ran through the rails from the blow dragged a few feet and ripped in half.
The victim born in 1942. The man found a Russian passport and foreign passport of the Russian Federation.
The movement of trains on this direction was stopped.
We will remind, in the Upper Meadowlands train fatally injured 12-year-old boy. This was announced at the Kremenchuk police Department of Poltava region. As noted, the body of a child found on the road near the station Solonicina. Local residents also said that sometimes saw the guy together with peers were playing near the railroad.
Comments
comments