Real loyalty. In Peru, the dog went to the hospital with the owner and never left him for a moment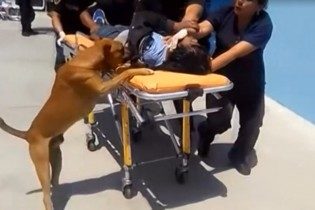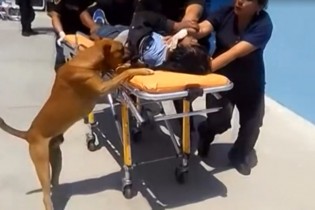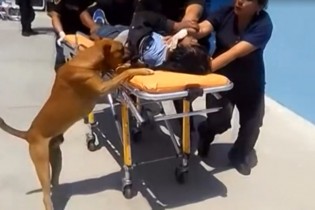 Real loyalty. In Peru, the dog went to the hospital with the owner and never left him for a moment
© Reuters
On animal behavior it was clear that they worried for his master.
In the city Chimbote that Peru has occurred touching story: when the owner of the two dogs became ill, four-legged accompanied him to the hospital.
Live with animals that are worried about man, published Reuters.
Peruano felt sick when he abused alcohol and hit his head. As a result, he had to be hospitalized to the nearest hospital.
See photos: Dog loyalty. In Transcarpathia, the dog two days covered a wounded friend on the track
When on the scene arrived the ambulance, two of the dog men didn't want to move away from him even for a moment. Four-legged accompanied his master to the hospital.
In animal behavior it is clear that they worry about the owner. In the carriage they were lying near him, sniffing and licking.
In turn, when the man was taken on a stretcher from the car to the medical facility, the dog playfully jumped up and followed the master.
We will remind, earlier video with the dog, who was brought in to say goodbye to her owner who is dying, has touched the social network. The video, posted to Facebook by the sister of the owner of the dog, has garnered over 10 million views.
In Peru, a dog accompanied his owner to the hospital
The world
Today, 19:17
Add to favourites
When the owner of the two dogs in Peru became ill and was hospitalized, four-legged friends decided to support him. Animals are even allowed to accompany the man in the ambulance. Behavior dogs understand that they are worried about the owner. They didn't move from the man for a minute and, if possible, licked it.
Comments
comments