The President of Bolivia has included porn on the phone at the time of the hearing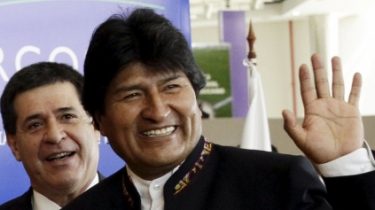 The President of Bolivia has included porn on the phone at the time of the hearing
© Reuters
The incident caused laughter in the hall.
The President of Bolivia, Evo Morales, in court, during a session with international lawyers launched porn videos on your phone. Video from the courtroom appeared online.
As you can see from the video, the phone Morales begins to emit a characteristic feminine moan, and then the President gets out of the hands of the gadget and immediately jumps to pick up the phone and turn off the video. All the action is accompanied by loud laughter.
Western edition did not fail to recall that Morales's single and has three children from three different women. But earlier the President of Bolivia admitted that he chews Coca leaves and doesn't see anything wrong with that.
Note that Morales has colleagues in the Verkhovna Rada of Ukraine. A few months ago, journalists observed that Vyacheslav Konstantinovsky considered erotic photos during the meeting. But not the MP blushed, and replied that nothing bad neither he nor his wife do not see.
Comments
comments