The foreign Ministry predicts Groisman visit to Israel in 2017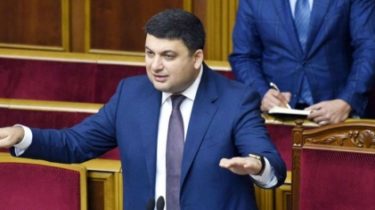 The foreign Ministry predicts Groisman visit to Israel in 2017
Vladimir Groisman© UNIAN
Earlier, Netanyahu canceled an official visit of the Prime Minister of the Ukraine vote in the UN security Council.
The foreign Ministry of Ukraine hopes that the visit of Prime Minister Vladimir Groisman Israel will take place in 2017.
This was stated in the air "5 channel" the Director of the Department of Middle East and Africa of the Ministry of foreign Affairs of Ukraine Andrei Zayats, reports Interfax-Ukraine.
See also: "Hot" resolution of contention. What was the cause of offense between Israel and Ukraine
"We hope that the visit of Prime Minister of Ukraine to the state of Israel will take place next year. Let the emotions calm down, this time will allow us to make progress in specific issues and then the visit of the Prime Minister will be even more effective than it would be today, the day of the 25th anniversary of diplomatic relations between our countries," he said.
Hare stressed that the Ukrainian side is carefully prepared to vote in the UN security Council on a resolution 2334 about the situation in the middle East.
"Were weighed all "for" and "against" and the result was decided by management, which was implemented by the permanent representative of Ukraine to the UN," – said the diplomat.
The foreign Ministry of Ukraine commented on the diplomatic row with Israel
TSN. 16:45
Yesterday, 17:44
Add to favourites
The relationship between the States deteriorated sharply after the UN General Assembly in Kiev voted against Israel's right to build settlements in the Palestinian territories. Of the 15 members of the UN security Council only the US abstained. 14 States, including Ukraine, voted for the resolution – not in favor of Israel. The arguments of the Ukrainian foreign Ministry, the Israeli side has not considered.
We will remind, the UN Security Council adopted a resolution that recognizes Israel's illegal settlements in the Palestinian territory, including East Jerusalem. Such a resolution was adopted for the first time thanks to the U.S. delegation, which did not veto, as before, and merely abstained.
In the final document urge Israel to cease the construction of settlements in the occupied Palestinian territory. Such settlements are called "a flagrant violation of international law" and such, that have no legal force. The security Council demanded that Israel immediately cease settlement activity.
Israel, in turn, refused to recognize the resolution and accused the Obama administration into agreements with the UN behind of tel Aviv. In a statement on behalf of the government of Benjamin Netanyahu says that Israel intends to cooperate with the administration of Donald trump and congressmen to "avoid the consequences of this absurd resolution."
24 December, Prime Minister of Israel Benjamin Netanyahu canceled an official visit to the country, Prime Minister of Ukraine Vladimir Groisman.
Comments
comments