The NBU announced an auction to sell 100 million. to prevent fluctuations in the hryvnia exchange rate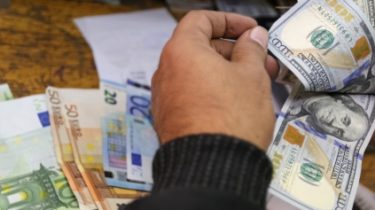 The NBU announced an auction to sell 100 million. to prevent fluctuations in the hryvnia exchange rate
© Reuters
In the last days of the year significantly increased the demand on the part of market participants.
Today, December 28, the national Bank of Ukraine announced an auction to sell foreign currency up to 100 million dollars. to meet the higher demand for currency, caused by situational factors.
About it reported in a press-service of the NBU.
"Today, 28 December 2016, on the interbank currency market continues to experience a temporary excess demand for foreign currency, which was formed under the influence of situational factors", – is spoken in the message.
See also: Currency holding positions in the official exchange rate of NBU on 27 Dec
It is noted that the supply of currency, which yesterday was limited due to the Christmas holiday in the US and Europe, today partially restored. But it is not sufficient because of VAT refund, which the exporting companies received the last and current week, holding back their needs in hryvnia liquidity, and hence the sale of their foreign exchange earnings.
At the same time, in the last days of the year significantly increased the demand on the part of market participants, noted in the NBU, it is caused by the need of companies to make payments on loans in foreign currency at the end of the year.
"As has been noted, in case when the foreign exchange market is dominated by temporary factors, the national Bank is ready to enter the market with currency interventions to smooth excessive fluctuations and has enough tools for this. The volume of international reserves now stands at about 15.7 billion. USA. This is for the sale of the currency during the intervention, and to perform the obligations of the Government and the NBU," – said the press service.
See also: Former top management of PrivatBank called it nationalization artificially provoked NBU
It is noted that yesterday, 27 December 2016, the national Bank during the auction for the sale of foreign exchange granted the application of the participants in the amount of 46.8 million. USA, to prevent excessive fluctuations in the exchange rate of the hryvnia.
"Today, December 28, with the same purpose, the national Bank also announced the auction for the sale of foreign currency. The volume of auction – up to $ 100 million. USA", – said the NBU.
Earlier economists explained the slight devaluation of the hryvnia to the nationalization of PrivatBank. According to financial analyst Vitaly Shapran, the hryvnia will meet 2017 rate of 27 hryvnia for one dollar. "We do not expect any surprises in anticipation of the holidays. Recall that the Verkhovna Rada has canceled taxes (2% fee in the PFC) when buying foreign currency. This will affect the reduction of the difference between the buying and selling and have a positive impact on the exchange rate," says Shapran.
Comments
comments