Commanders of the insurgents in the Donbass blamed the victims "retroactively" – intelligence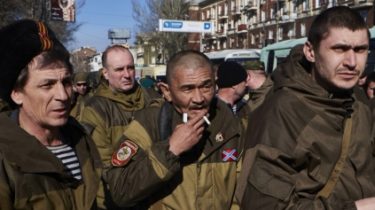 Commanders of the insurgents in the Donbass blamed the victims "retroactively" – intelligence
© Getty Images
The indignant soldiers refuse to carry out the tasks on the front.
In the Donbas the command of the militants came up with a scheme of enrichment at the dead mercenaries.
This was reported by the Directorate of intelligence of the Ministry of defence on his page on Facebook.
"Growing tensions between the personnel of the enemy units that perform tasks on the forefront, and the command of the Russian occupying forces firing "backdating" of soldiers who died during combat operations", – stated in the message.
According to scouts, the dismissal of the dead mercenaries klassificeret as maimed in a domestic environment.
It is also noted that due to this command avoids the payment of cash compensation and forms the "Foundation of economy" for their own enrichment.
"On December 26, the staff of one of the 7 divisions of the separate motorized rifle brigade (Bryanka) 2 AK (Lugansk), the armed forces refused to perform tasks on the forefront. With the purpose of compelling their service as the Deputy commander of the battalion was to use physical force against troops of this division," added the intelligence.
Earlier, the Ukrainian soldiers said that after the announcement of the ceasefire military discipline among the forces deteriorated, they decided to punish the ruble. As it became known that militants in the Donbass will celebrate holidays without money, drinking, and sabotage.
Comments
comments