McCain and Graham called trump and the new Congress to tighten sanctions against Russia and provide weapons to Ukraine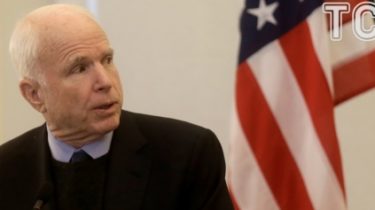 McCain and Graham called trump and the new Congress to tighten sanctions against Russia and provide weapons to Ukraine
© Reuters
In the conditions of Russian aggression is necessary to provide a permanent US presence in Baltic States.
Senatori-Republicans McCain and Graham urged the elected President of the USA of Donald trump and renovated Congress to impose new, tougher sanctions against Russia over its intervention in the presidential election.
This writes Fox News.
"We need to implement a lot of things. Number one is the strengthening of sanctions against Russia for this mess," said the Chairman of the Committee on Armed forces of the United States John McCain. According to him, in conditions of Russian aggression is necessary to provide a permanent US presence in Baltic States, where there is a great concern.
"I would also provide defensive arms to Ukraine so it could defend itself from further attacks from the Russian side, and be sure that Vladimir Putin is aware that such actions in the future will reciprocate," – said McCain.
Former presidential candidate Lindsey Graham also stressed the need for greater pressure on the Russian leadership.
"We need a new Congress and a new President has signalis Russia will adopt new sanctions, much more than there are now," said Graham. He drew attention to the need for the introduction of restrictions against Russia's energy sector, including in the form of personal sanctions against Putin's inner circle. He stressed that in order to change Putin's behavior, we need a painful impact on him.
See also: McCain called Putin a thug, a killer and agent of the KGB
We will remind that the administration of U.S. President Barack Obama is preparing to announce on 29 December on the introduction of sanctions against Russia for meddling in the election of the President of this country.
On it informs TV channel CNN, citing us officials who know about the plans of the Obama administration.
Actions should include additional sanctions and diplomatic measures that the Obama administration considers a proportionate response to the hacking attack Russia during the election campaign.
The United States promised to enter the first personal sanctions against Putin
TSN. Pdsmi day
Today, 00:10
Add to favourites
For a hacker attack during the presidential election. Republican Senator Lindsey Graham during a visit to Latvia said that the tough new restrictions will concern not only Russia, but also the face of its leader. The us Congress is thoroughly investigating the actions of the Russian hackers who, according to Washington, trying to influence the outcome of U.S. presidential elections.
Comments
comments