Forget 15 years of the Crimea and to hold elections for the militants. Pinchuk wrote, "compromises" for peace with Russia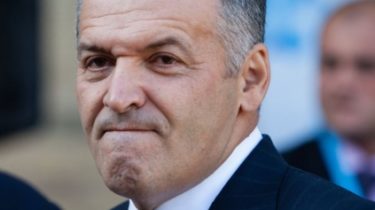 Forget 15 years of the Crimea and to hold elections for the militants. Pinchuk wrote, "compromises" for peace with Russia
© UNIAN
Ukrainian oligarch Victor Pinchuk offers to make "painful compromises" for peace in the Donbas.
Tycoon says that Ukraine should have the right to determine their own future, and Russia is obliged to fulfill its obligations under the Minsk agreements, he wrote in article in the Wall Street Journal.
"Yes, we must defend the fundamental principles of our struggle, Ukraine should have the right to choose their own path, to preserve its territorial integrity and to build a successful country. Moscow should fulfill its commitments under the Minsk agreements 2014 and 2015, to end the conflict in Eastern Ukraine. She should respect the ceasefire and withdraw its fighters and heavy weapons, she is unable to do it," – says Pinchuk.
In turn, Pinchuk offers some compromises:
Ukraine should consider a temporary withdrawal from the agenda the issue of accession to the European Union. "We can build a European country, to be a privileged partner, and then discuss and accession", – said the oligarch.
Ukraine should not raise the question of territorial belonging of the Crimea during the peace negotiations in the Donbas. Pinchuk believes that within 15-20 years, Ukraine will be able to demonstrate sufficient development to the Crimea itself wanted to return to her squad, as it happened with GDR and FRG.
Local elections in Donbas may have to spend to the restoration of Ukraine's control over the occupied areas. Pinchuk agree that these elections will be unfair, but, in his opinion, such a compromise would show that Ukraine wants peaceful reintegration of Donbass.
Ukraine can't join NATO in the short and medium term."And finally, let us recognize that Ukraine will not join NATO in the short or medium term. The offer is not on the table, and if it was, it could lead to an international crisis of unprecedented magnitude. At the moment, we must pursue an alternative system of security and make the neutrality of our short-term perspective for the future," he added.
Pinchuk also writes that in exchange for these trade-offs Ukraine will need real guarantees of security.
"In 1994 under the Budapest Memorandum the United States, Russia, Britain, France and China promised the security of Ukraine in exchange for refusal from nuclear Arsenal. We believe this agreement, but when Russia invaded Crimea, we received a painful lesson: assurances – this is not a guarantee. Ukraine needs to propose realistic, detailed proposals on all these points. We also need to make clear that it is willing to accept a phased lifting of sanctions against Russia in the course of how we will go toward a free, United, peaceful and safe Ukraine", – said the oligarch.
"When I took Donald trump as a speaker via video link at the annual meeting of the Yalta European strategy 2015, he expressed great respect for Ukraine and the belief that we have not received the support which he deserved. I hope that his sympathy for Ukraine can become the basis for constructive negotiations, agreements, and eventually a peaceful settlement," Pinchuk wrote.
Comments
comments