In the LCD Podol Plaza residence opens luxury retail and office center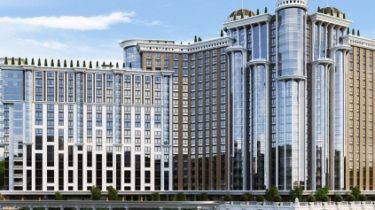 In the LCD Podol Plaza residence opens luxury retail and office center
In the center of Kiev street glubochitskaya in a new residential complex in Podol Plaza residence will house retail and office center, the business elite and connoisseurs of luxury brands.
Here are created all conditions for ideal shopping world-renowned brands and business organization at the highest level. The complex Podol Plaza residence will be office premises of class A and trendy galleries of popular luxury brands, restaurants and shops fine gastronomy, all in one place.
The shopping and office center will be an integral part of the residential project Podol Plaza residence. Architects and designers have brought in this latest technology construction of thought. Insulated walls with ventilated system and facade glazing elements can be simultaneously large and airy. The main uniqueness of the project Podol Plaza residence that residents of the LCD can solve all their questions without leaving its beautiful protected area. In Podol Plaza residence for this purpose all.
On the first level it offers residents and their guests – fast food outlets, cafes and restaurants. Here you can spend a pleasant evening with family and friends, to arrange an informal business meeting or to celebrate happy family events. On the second level there is the premium-class supermarket with a wide range of quality food products, delivered from all over the world, as well as shops of elite alcohol and cigars. Above the gallery of boutiques of clothes, shoes, accessories and cosmetics popular luxury brands. The entire fourth level is a sports complex with an area of 5 000 sq m with swimming pool, gyms and SPA where clients can get the full range of services for health and beauty. For the organization of business allocated to the fifth level of the residential complex, which will house office space And class.
The residential complex Podol Plaza residence is closed to outsiders, guaranteeing comfort, tranquility and security. The complex is designed on the principle of "closed yard", contains a multi-level Parking for apartment owners and their guests. The interior space is divided into "adult" and "child" territory. In the "children's" part – a variety of playgrounds in the fresh air, in adult – comfortable benches surrounded by flower arrangements and perennial plants.
LCD Podol Plaza, the residence is rightfully called the residence of its area is designed for comfortable rest and work.
Comments
comments