Poroshenko has awarded McCain and Graham for the strengthening of relations between Ukraine and the USA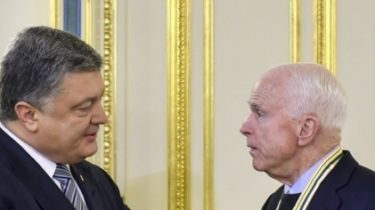 Poroshenko has awarded McCain and Graham for the strengthening of relations between Ukraine and the USA
© The website of the President of Ukraine
The President talked about reforms in Ukraine.
President of Ukraine Petro Poroshenko had a meeting with a U.S. Senate delegation led by Senator John McCain.
This is stated on the website of the President.
The President gave Senator John McCain the order of Liberty and noted the order of Yaroslav the Wise Senator Lindsey Graham for his significant contribution to strengthening relations between Ukraine and the United States of America. The head of state stressed the importance of traditional bipartisan support for Ukraine in the U.S. Congress and noted the participation of delegations of representatives of both parties. Those present discussed the continuing efforts to ensure the fulfilment of Russia's obligations under the Minsk agreements and conservation policies of the international sanctions against Russia until full recovery of the sovereignty and territorial integrity of Ukraine, including Crimea.
The President invited the senators to visit the Donbass, in order to obtain objective information about the subversive actions of the Russian side and the militants that continued provocation and violate the ceasefire. Petro Poroshenko noted the importance of the adoption by Congress of the law "On support of stability and democracy in Ukraine" that would be an important decision in the interest of solidarity and unity with our state.
The President also noted that Ukraine is fighting not only for independence. "We are fighting for freedom, for values, for democracy, protecting them in the center of Europe in the twenty-first century," he said. The President told the senators about reform in Ukraine and emphasized the important role of the US in the process.
In turn, John McCain reiterated his determination on assistance to Ukraine in its struggle against Russian aggression.
See also: McCain called Putin a thug, a killer and agent of the KGB
The senators expressed a firm intention "to lead the effort in the new Congress to impose tougher sanctions against Russia".
The supporters of the newly elected American President arrived in Kiev
TSN. 16:45
Today, 17:26
Add to favourites
This influential U.S. senators, Republicans John McCain and Lindsey Graham. In the capital they will spend two days in particular will meet with Ukrainian President Petro Poroshenko. John McCain promised to give an exclusive interview to TSN. Before the New year, the senators carried out a European tour in countries that are faced with the Kremlin's aggression.
Comments
comments