Poroshenko signed amendments to the Tax code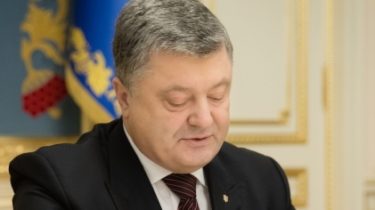 Poroshenko signed amendments to the Tax code
© The website of the President of Ukraine
The law is aimed at improving the investment climate.
President Petro Poroshenko has signed the Law "On amendments to the Tax code of Ukraine concerning improvement of investment climate in Ukraine".
This was reported in the press center of the President of Ukraine.
"I want to congratulate you on the completion of a very important process, which was developed from extensive consultations with the public, the great work which was involved in the business community and community activists," – said Poroshenko.
According to him, the draft Law was considered by the Government at the meeting of the national Council of reforms is aimed at improving the investment climate.
Read also: Russia launched a cyberwar against Ukraine – Poroshenko
"In connection with the adoption of this Law the tax Inspectorate at the district level will become out of control and Supervisory bodies the Advisory. This is very important. This is the way we should see the tax office, when an entrepreneur turns there and gets advice. There are no "masks-show", any corruption schemes", – said the head of state.
The President also noted that now the control function of tax inspections remain at the regional level.
"This means a significant increase in the level of competence and professionalism. By the way, this also significantly reduces the number of inspections and inspection bodies", – he said.
The President also noted that Law are exempt for three years from any checks of newly established enterprises, if they have a turnover of less than UAH 3 million.
"A very important step – we pass the access to registers of reimbursement of value added tax the Ministry of Finance," he said.
Read also: Poroshenko approved the state Budget-2017
According to him, the steps for administering income tax, value added tax, single social contribution, tax on income of physical persons and many others, we are creating a radically different tax and investment climate.
"In the near future, when this Law after the signing will be announced and put into effect, we will have a qualitative change in the investment and tax climate," added Poroshenko.
The Chairman added that this Law creates mechanisms to release business from the shadows.
The Minister of Finance of Ukraine Alexander danyluk also said: "After Your signature, this Law will earn and it will be a breath of fresh air, which had been expected by the business."
Recall President of Ukraine Petro Poroshenko signed amendments to the law on physical persons-entrepreneurs (FOP)for which they will pay taxes under the new rules.
By news standards, January 1, 2017 2nd and 3rd groups, the FLP will have to pay a single social contribution over 704 hryvnia per month, even if entrepreneurs do not have any temporarily profits. Previously Phil has to pay 5% tax and ERUs in case of profit. If the movement of funds was not to pay was not necessary.
Comments
comments