In Kiev organized a festive race of Santa clauses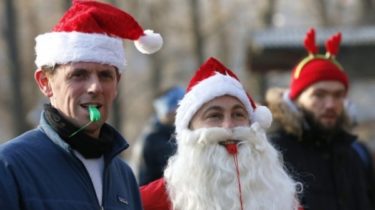 In Kiev organized a festive race of Santa clauses
Kiev
Today, 14:47
1 of 9

The Race Of Santa Claus
© UNIAN

1 of 9

The Race Of Santa Claus
© UNIAN

1 of 9

The Race Of Santa Claus
© UNIAN

1 of 9

The Race Of Santa Claus
© UNIAN

1 of 9

The Race Of Santa Claus
© UNIAN

1 of 9

The Race Of Santa Claus
© UNIAN

1 of 9

The Race Of Santa Claus
© UNIAN

1 of 9

The Race Of Santa Claus
© UNIAN

1 of 9

The Race Of Santa Claus
© UNIAN
The Race Of Santa Claus
© UNIAN

The Race Of Santa Claus
© UNIAN

The Race Of Santa Claus
© UNIAN

The Race Of Santa Claus
© UNIAN

The Race Of Santa Claus
© UNIAN

The Race Of Santa Claus
© UNIAN

The Race Of Santa Claus
© UNIAN

The Race Of Santa Claus
© UNIAN

The Race Of Santa Claus
© UNIAN
The participants decided to charge a positive in anticipation of the holidays.
31 December in Kiev on the Trukhanov island had arranged a fancy dress race new year's wizards.
The event staged on New year eve. The participants came in costumes of Santa Claus and reindeer, and have time to do selfie right while Jogging.
See photos of the race from photographer UNIAN.
See also: Santa Claus has already distributed 2.7 billion gifts and he visited Ukraine
Earlier, the Kyiv city state administration has published a list of festive events. So, just near the main tree of the country on St. Sophia square in a month will be 15 concert programs. Details – the link.
Comments
comments