Poroshenko with U.S. senators called for military in Shirokino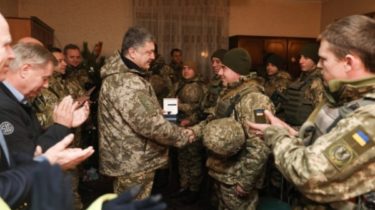 Poroshenko with U.S. senators called for military in Shirokino
ATO
Today, 17:31
1 of 5

Poroshenko in Shirokino
© The website of the President of Ukraine

1 of 5

Poroshenko in Shirokino
© The website of the President of Ukraine

1 of 5

Poroshenko in Shirokino
© The website of the President of Ukraine

1 of 5

Poroshenko in Shirokino
© The website of the President of Ukraine

1 of 5

Poroshenko in Shirokino
© The website of the President of Ukraine
Poroshenko in Shirokino
© The website of the President of Ukraine

Poroshenko in Shirokino
© The website of the President of Ukraine

Poroshenko in Shirokino
© The website of the President of Ukraine

Poroshenko in Shirokino
© The website of the President of Ukraine

Poroshenko in Shirokino
© The website of the President of Ukraine
The President congratulated soldiers with the holidays.
President of Ukraine Petro Poroshenko visited the command post of anti-terrorist operation forces in Shirokino in the Donbass, to congratulate Ukrainian Marines, Christmas holidays and Christmas.
It is reported by his press service.
Along with Poroshenko to Donbass there arrived and us senators led by John McCain.
See also: New year's sweeping the planet. A text stream
The President also held a meeting at the headquarters of ATO and adopted the report of the chief of staff about the situation around carrying out anti-terrorist operation, in particular in the sector of "M", which continued shelling positions of the Ukrainian military from the Pro-Russian terrorists.
Earlier, the Kyiv city state administration has published a list of festive events. So, just near the main tree of the country on St. Sophia square in a month will be 15 concert programs. Details at the link.
Comments
comments