In Nigeria after a failed suicide attempt a woman was accused that she is a witch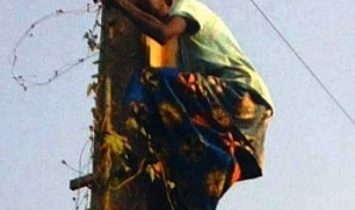 In Nigeria after a failed suicide attempt a woman was accused that she is a witch
Curiosities
Yesterday, 23:52
1 of 5

© Daily Mail

1 of 5

© Daily Mail

1 of 5

© Daily Mail

1 of 5

© Daily Mail

1 of 5

© Daily Mail
© Daily Mail

© Daily Mail

© Daily Mail

© Daily Mail

© Daily Mail
Grandmother tried to take her own life with the help of electric current.
In Nigeria, 80-year-old woman accused of being a witch, after she climbed the electric pole, but it was not a shock.
A woman climbed a pole to commit suicide. She touched the wires, but nothing happened, reports The Daily Mail.
When she came down, gathered around her a large crowd of people. Some of those present accused the woman of witchcraft.
The belief in witchcraft is widespread among Nigerians, particularly in the area of the Niger Delta. For example, the people of Ibibio, who lives in the South-East of Nigeria, said that some people with magic can make others poor to cause them any harm or even kill.
What happened to the woman when she came down from the post, is unknown.
See also: Truth and myth: everything you wanted to know about witches but were afraid to ask
We will remind, last year in Papua New Guinea woman accused of witchcraft hacked to death. 10 men c firearms Handicrafts, machetes and axes stormed a village in the province of Enga, where lived a woman and killed her in front of family. The girl along with three other women accused in the fact that she used magic to ensure that in one district there was an outbreak of measles, which often ends in death.
Comments
comments