Military near Mayorsk shelled out "Boobs" and "Louboutins"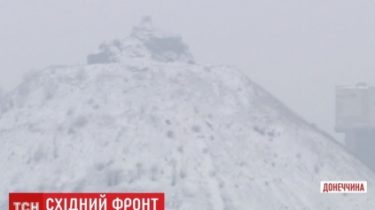 Military near Mayorsk shelled out "Boobs" and "Louboutins"
The Marines came up with funny names for heaps that use the militants for the attacks.
Ukrainian paratroopers near the Mallorcan confidently hold the Fort despite the fact that even with a ceasefire has been declared the enemy continues to use against heavy weapons. For aiming fighters use piles, which offers a good view of the surrounding area, said in the story TSN.19:30.
These heights Marines gave their own funny names. "There we have Boobs, there is a piece of Shit, there's Louboutins, and they had the Cock. We sometimes pull out there feathers, the feathers from the cock are flying", – said the fighter with a call sign "Expert". A few days ago he and his colleagues have undergone a powerful artillery fire, so no illusions about the regime of silence on the position of no, and the military willing to open counter fire if the enemy provocations are a threat to the life of Ukrainians. "I'm sure that everyone is doing well. And all the rest – political subtleties. The most important thing that? The lives of our comrades," – explained fighters.
Their dugout was destroyed by a direct hit of a large projectile 30 minutes before the announcement of regime of silence. It happened at the positions near the checkpoint via which on the eve of his returned 15 traitors. After the occurrence of the so-called "silence" military fire from WOG, LNG and guns BMP. The soldiers have seen too much attention from the local alleged civilians who take the position of APU in the video. Attacks traditionally begin after the closure of the checkpoint. The men suspect that the fire was correct in that the materials from supporters of militants in civilian clothes.
The TSN reporter Eugene Zvecanska
In the area Popasnaya invaders attacked the observation post of the Ukrainian army
TSN. 19:30
Yesterday, 20:38
Add to favourites
The attack was repulsed. The insurgents retreated with losses. About shelling and infantry attacks reported from the front on the Northern outskirts of the occupied Horlivka. Orders from the political agreement is respected there, but when it comes to the life of the brothers, the commanders did not hesitate to give the order to force the enemy to silence.
Comments
comments