Putin will never be able to take from the Ukrainians freedom – McCain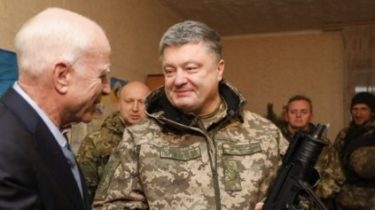 Putin will never be able to take from the Ukrainians freedom – McCain
© The website of the President of Ukraine
The Senator predicted Ukraine's victory in 2017.
Ukrainian territory will be liberated from the invaders in the new year. This hope expressed by the Senator from Republican party John McCain during a meeting with the military anti-terrorist operation in the sector of "Mariupol".
"I saw that the cooperation between our countries is essential to ensure the security of the borders of Ukraine. In 2017 we will defeat the invaders and send them back where they came from. Putin and I want to say that he will never be able to deprive Ukrainians of freedom and independence," – said an American politician.
Senator John McCain made a statement in relation to Ukraine during a visit to Kiev
TSN. 19:30
Yesterday, 20:39
Add to favourites
He said that the United States will continue to remain a reliable partner of Ukraine, in particular, in the protection of the territorial integrity of our state. During a meeting with the President, both parties acted to ensure the fulfilment by Russia of the Minsk obligations, and in addition, to continue the sanctions until the full restoration of control over the Ukrainian territory, including Crimea.
McCain also gave the soldiers APU greetings from the American people. "Your struggle is our struggle and we will win together," he said.
On the eve of the politician in an interview to TSN promised that the United States will continue to support Ukraine, even regardless of the personal position of the new President of Donald trump.
Comments
comments