Legendary General Gordiychuk wished the soldiers of the ATO in the new year to embody the "secret" of victory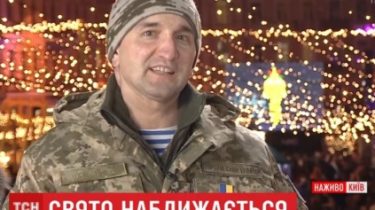 Legendary General Gordiychuk wished the soldiers of the ATO in the new year to embody the "secret" of victory
Military convinced that triumphs is the one who has the greatest faith.
The commander of operations at the defense Saur-Graves Igor Gordiychuk, who received from President Petro Poroshenko to the rank of General on parade on Independence Day, live TSN.19:30 passed on his congratulations to the soldiers on the front line. The officer last left height, was wounded, got into Ilovajskij boiler for two days she lay unconscious on the battlefield, then had a long-term treatment, and is now head of the Kiev military Lyceum named after Ivan Bohun.
"I want to congratulate happy New year first and foremost guys, the girls on the front lines defending our Ukraine. I want to assure you that we remember, honor, pray for them, very low bow. Here we are doing everything that depends on us, that they felt more confident to believe in our victory. Victory goes to those who believe in it the most and the longest. We will believe!", the General stressed Gordiychuk.
General Igor Gordiychuk congratulated the fighters that new year's eve are at the forefront
TSN. 19:30
Yesterday, 2016, 19:54
Add to favourites
Igor Gordiychuk, who received the rank of General on parade for the anniversary of Independence and congratulated those who are on the front. And Igor's wife wished patience those who are waiting for them out front.
Comments
comments