Pashinsky a day after the incident said details of the attack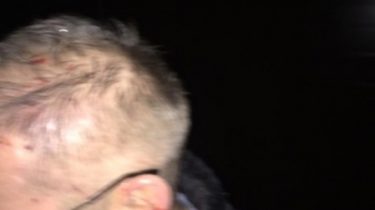 Pashinsky a day after the incident said details of the attack
Policy
Today, 21:26
1 of 5

© Facebook.com/Сергей Pashinsky

1 of 5

© Facebook.com/Сергей Pashinsky

1 of 5

© Facebook.com/Сергей Pashinsky

1 of 5

© Facebook.com/Сергей Pashinsky

1 of 5

© UNIAN
© Facebook.com/Сергей Pashinsky

© Facebook.com/Сергей Pashinsky

© Facebook.com/Сергей Pashinsky

© Facebook.com/Сергей Pashinsky

© UNIAN
He stressed that the weapons he had with him – was registered.
The head of the Verkhovna Rada Committee on national security and defence and the people's Deputy from "popular front" Sergei Pashinsky through the night for the attack decided to tell the details of the shooting incident.
He reported about it in Facebook.
Pashinsky said that was unguarded.
"Spontaneously decided to go to the cinema "butterfly Country." Since it was a Saturday, before the New Year, I let go of the driver and the guard. Wife was herself behind the wheel. After the end of the session, about 17:15 we entered the highway Kyiv – Odessa in a twist on his village Khlepcha," – said Pashinsky.
He added that they were driving with dipped beam. His wife was forced to brake sharply in front of a large car without the included dimensions, on a dark stretch of road. The MP stressed that the weapons he had with him – is permitted and registered, the right to carry and use in the cases prescribed by law.
"I used this weapon only after hitting a glass bottle on the head, what there is evidence from independent witnesses. The testimony of the witnesses and review the scene confirm that I made a precautionary shot up, and the second, after hitting me with a bottle made up forward. The gun is now taken on the corresponding examination," – said the Deputy.
Pashinsky added that it was examined by doctors have rendered first aid. Alcohol test showed that he did not consume alcoholic beverages.
"He personally rendered first aid to the wounded assailant wrenched his wounded leg with his belt. All evening yesterday, my family and I helped him get proper medical care," – said the MP.
He also said he was willing to work with the investigation.
See also: Became known the details of the investigation into the attack on the Deputy Pashinsky
We will remind, on December 31, Sergey Pashinsky was shot in the leg a drunken manwho threatened to kill him. The incident occurred after Pashinsky asked the man to turn the hazard lights on the road. The husband got angry and hit a Deputy with a glass bottle and fell to the ground.
The Kyiv region was a shooting involving people's Deputy Sergei Pashinsky
TSN. Week
Today, 20:49
New year's eve shooting occurred in vassilkovskaya area. As he confessed to the Deputy on his page on Facebook, he shot a passer-by who allegedly hostile responded to the comment to remove the car from the road. The police supports the version of MP.
Add to favourites
Comments
comments