US senators McCain and Graham said that it is time to deter Putin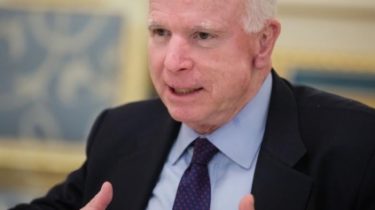 US senators McCain and Graham said that it is time to deter Putin
© Administration Of The President Of Ukraine
We hope to make 2017 the year of responsibility for the crime and convinced of American politics.
U.S. Republican senators John McCain and Lindsey Grahamand democratic Senator Amy Klobuchar said they would seek from Congress the adoption of tougher sanctions against Russia, its President Vladimir Putin.
About it reports Radio Freedom.
"We hope to make 2017 the year of responsibility. Time to deter Putin. It is time for new sanctions that will seriously hurt him personally, and the Russian energy sector and the banking sector," said the Republican Senator from South Carolina Lindsey Graham.
"We urge our colleagues to adopt a more meaningful and tough sanctions against Russia for its hacking attacks on the United States," said John McCain, adding that there is "clear evidence" intervention in Russia electronic resources of the US Democratic party.
Graham stressed that the three senators after the return will tell the Congress and everybody else, "that Russia made the Baltic States and making in Ukraine".
Read also: Putin will never take the Ukrainians freedom – McCain
Recall that us senators John McCain, Lindsey Graham and Amy Klobuchar arrived in Ukraine on December 30. The same day McCain and Graham who actively advocate for the protection of Ukraine and call upon the Executive power of the United States to provide lethal weapons to Kiev to counter Russian aggression, have received state awards "for personal contribution to strengthening relations between Ukraine and the USA".
The next day the three senators, along with Petro Poroshenko welcomed the Ukrainian military command post in the village SHIROKANE near Mariupol.
Senator John McCain made a statement in relation to Ukraine during a visit to Kiev
TSN. 19:30
December 30, 2016, 20:39
Add to favourites
He said that the United States will continue to remain a reliable partner of Ukraine, in particular, in the protection of the territorial integrity of our state. During a meeting with the President, both parties acted to ensure the fulfilment by Russia of the Minsk obligations, and in addition, to continue the sanctions until the full restoration of control over the Ukrainian territory, including Crimea.
Comments
comments