Russia has a very weak economy, and the United States could weaken it even more – McCain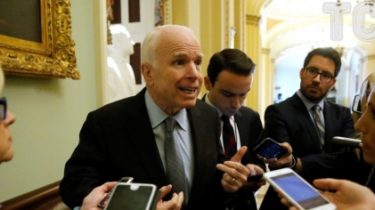 Russia has a very weak economy, and the United States could weaken it even more – McCain
John McCain© Reuters
He stressed that the Congress has enough votes to support Ukraine.
Us Senator John McCain hopes that Congress will be able to cooperate with the newly elected President of the United States Donald trump, in particular, the issue of expansion of sanctions against Russia.
He said this in an interview with TSN.
Read also: Putin will never take the Ukrainians freedom – McCain
"The U.S. Congress will support additional sanctions against (Russian President Vladimir – ed.) Putin, because he interfered in our elections. We – equal branches of government: the elected President can veto, may take any other Mare. I hope that we can work together. But the Congress of the United States will not sacrifice the freedom and independence of Ukraine", – said the Senator.
"Understand, I don't want to deal with the elected President trump, it's not my job. But there are enough votes to support Ukraine and help preserve its independence – through aid, military cooperation and a lot of other things," added McCain.
He also assured that the United States could further weaken the Russian economy.
"A lot of sanctions that we can apply. Financial institutions, on the one hand. Believe it or not, but Russians have a very weak economy, and we can relax again. (Enter – ed) personal sanctions against specific organizations," explained McCain.
John McCain gave an exclusive interview to TSN
TSN. 19:30
Today, 20:15
Add to favourites
Senator from the Republican party – one of the most consistent supporters of Ukraine. He was in favour of supplying official Kiev with arms and the tightening of sanctions against Russia. New year's eve John McCain with a group of senators was in Kiev and gave an exclusive interview to TSN about how the Republicans will restrain trump from friendship with Putin and what to expect from the future of Ukraine in the White house.
Comments
comments