The cartridges on the tree and compote in glasses: how to meet New year in the industrial area of Avdeyevka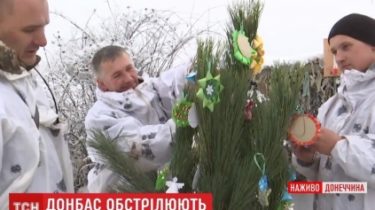 The cartridges on the tree and compote in glasses: how to meet New year in the industrial area of Avdeyevka
The enemy fired at VSU positions, but could not spoil the occasion.
With cartridges instead of toys on new year tree and juice instead of champagne on the table greeted the New year in positions near Avdeevka defenders of Ukraine. The most delicious gift to them was a 1.5-metre bread baked by volunteers specifically for the holiday, according to a story TSN.19:30.
The military tried to create at the forefront of a home-like atmosphere and even decorated serpentine chandelier in a room without Windows. This was picked up specifically to light was not visible from the outside, and he became a target for the enemy. Because the house, where there were soldiers, is located in the zone of constant fighting close to the industrial area of Avdiivka. From pyrotechnics soldiers allowed themselves only one Sparkler in the house.
Ukrainian soldiers in the East saw the New year under fire
TSN. Week
Yesterday, 20:50
Add to favourites
Two dozen attacks in a night, three soldiers were injured. Welcome with shells and bullets, the fighters began to the beat of their Moscow chimes. Journalist of TSN was celebrated together with the soldiers.
At least it was festive clothing. Soldiers were often without it, because they returned or were preparing to step up combat positions. Weapons also did not leave. "Maybe some of them filed and we are preparing surprises, so we must be alert," explained the military. Indeed, at 23:00 Ukrainian time and night time invader enemies start shooting. However, the attack was chaotic and unsighted, so the military decided not to succumb to provocations and keep the peace in the new year's eve.
Happy for men was festive and Olivier, and phone greetings from family, and the appeal of the Supreme commander of the army, and said a few words one of the officers of the ATO. In the new year, wished success to his battalion and health to all Ukrainian soldiers.
The TSN reporter Eugene Zvecanska
Comments
comments