The court could not elect a measure of restraint Kurchenko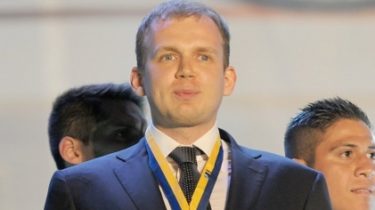 The court could not elect a measure of restraint Kurchenko
© UNIAN
The session was postponed indefinitely because of the disqualification of a judge.
The Pechersky district court of Kiev was unable to elect a measure of restraint for the owner of "Eastern European fuel and energy company" (VETEK) of Serhiy Kurchenko through recusal of Vladimir Karabana declared by the lawyer of the oligarch Yuriy Sukhov.
About it reports the UNIAN.
A meeting of the Pechersk district court of Kyiv, during which shall hear the petition of the General Prosecutor's office about Kurchenko election of a measure of restraint in form of detention, postponed indefinitely due to the fact that the lawyer Yuriy Sukhov said the withdrawal of the judge Karabany.
See also: "Kurchenko's a criminal." Poroshenko has promised to expedite the investigation of cases against the tycoon
He attributed this withdrawal to the fact that, in his opinion, the judge has a certain collusion with the prosecution and added that violated the jurisdiction of the case, it should consider Podolsk court, because the main investigation Department of the Prosecutor General's office is located in the Podolsk district.
Moreover, Sukhov added that, in his opinion, representatives of the Prosecutor General's office reported no new circumstances in his petition, which prove the necessity of restraint Kurchenko, and therefore the defence considers that the preventive measure had no reason to.
From these considerations, Sukhov said that he would not apply for remote interrogation Kurchenko. In addition, he did not want to disclose to journalists the whereabouts of his client, stating that attorney-client privilege. And in the case of disclosure of this information, the Prosecutor General's office will receive a reason for the initiation of in absentia convictions Kurchenko.
See also: Kurchenko and Klymenko caused Ukraine losses on nearly 200 billion hryvnias.
As you know, December 28 the Appellate court of Kiev cancelled the resolution on the arrest of Sergei Kurchenko. At the same time the court ruled a new decision, which denied the petition of the state office of public Prosecutor about election against Kurchenko of a measure of restraint in form of detention.
We will remind, on March 22, Prosecutor General Yury Lutsenko declared to the Ukrainian oligarch-fugitive Serhiy Kurchenko a suspect for crimes in the banking sector.
Earlier, the GPU announced suspected Kurchenko in embezzlement of state enterprise of PJSC "Ukrgasdobycha".
In may, the court on motion of the senior investigator of the Prosecutor General arrested the property of Sergey Kurchenko.
Comments
comments