Protection Yanukovich requires a court to hear his testimony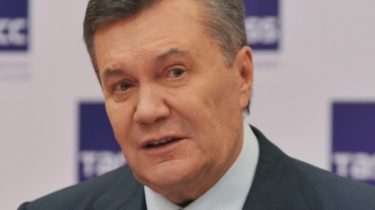 Protection Yanukovich requires a court to hear his testimony
© Reuters
Lawyers claim that the court took the ex-President the opportunity to explain all the suspicions against him.
The lawyers of the ex-President of Ukraine Viktor Yanukovych asked the court to hear testimony from their client.
This is stated in the message of the law firm, which provides protection to Yanukovych, informs "Ukrainian truth".
Protection requires recognition of the wrongful "deprivation of the Pechersk court, Viktor Yanukovych right to justice and the right to provide the court with evidence".
"We filed a lawsuit on 28 December 2016 and I hope that the decision of the District administrative court of Kiev the court will be obliged to fulfil the requirements of articles 55 and 129 of the Constitution of Ukraine, article 6 of the Convention for the protection of human rights and fundamental freedoms, the International Covenant on civil and political human rights and to interrogate Viktor Yanukovych personally," said the lawyer Vitaly Serdyuk.
See also: Became known when Interpol will decide on the wanted list Yanukovych's team
According to the lawyer, "systemic failures" of the Pechersk court took away from Yanukovych's explanations on all of the suspicions against him and, in particular, recently, about high treason – "this is a gross violation of personal human rights protection guaranteed by a number of normative acts and the threat of the imposition of unreasonable verdict".
"Every citizen of our state Constitution, code of criminal procedure, the International Covenant on civil and political rights, the Convention on the protection of human rights guaranteed the right to be questioned in the case in which there are allegations," he said.
"Pechersk district court repeatedly these guarantees had been violated and my client was wrongly denied in the trial testimony, without which it is impossible to objectively establish the truth", – said the lawyer.
Read also: the Court denied the recusal in the case of Yanukovych of treason
Recall that on 14 December the Pechersky regional court of Kiev granted permission for the detention of ex-President Viktor Yanukovych and deliver it to the court. Thus, the court satisfied the request of the military Prosecutor Krivenko on permission to detention of Yanukovych, "with the purpose of his drive to participate in the consideration of the petition for application of a preventive measure in the form of detention".
On November 28 Yuriy Lutsenko to Svyatoshynsky district court of Kyiv announced that Viktor Yanukovych declared suspect in treason – the content of the suspicion is declared orally, namely, the notice was sent to all known addresses of the former President. On the same day after reading this suspicions the Military Prosecutor presented his lawyer Igor Fedorenko present in court.
Comments
comments