The Prosecutor's office to clarify the status of the defendants in the case about the attack on Pashinsky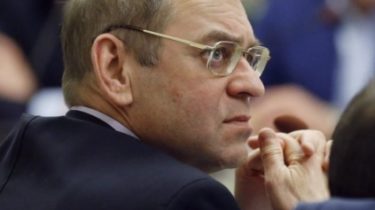 The Prosecutor's office to clarify the status of the defendants in the case about the attack on Pashinsky
© UNIAN
The driver of the bus is not a suspect.
The thing about shooting people's Deputy Sergey Pashinsky will be investigated by the Prosecutor of the Kiev region. Already interrogated main witnesses and the designated investigative and ballistic and medical expert, says the story TSN.19:30.
According to the regional Prosecutor's office, spread by some media reports that the driver of the van was an accomplice in the attacks on the people's choice, is not true. "The Prosecutor of the Kiev region officially reports that the driver of the minibus has the status of a witness in criminal proceedings registered by the police of the Kiev region on the fact of hooliganism. We emphasize that the legal qualification of the criminal offense is primary and it is possible that it can be changed in the course of a pretrial investigation", – explained there.
See also: Criminal proceedings on the shot Pashinsky was transferred to Prosecutor's office
"No person is now a suspect, all persons now practiced on the subject of the crime. We are not defendants in the case the driver of the Volkswagen and the driver of "Mercedes". After investigate, declare, who's the bully and who is not a bully – now we must establish the qualification of the crime," – said the Prosecutor of the region Dmitry Chibisov.
As reported, December 31, Pashinsky with his wife in the dark part of the day almost crashed into a carthat broke down on the road. The two men at this point tried to pull the car from the roadway. Began a verbal altercation, which ended Pashinsky was threatened with a gun one of the men, who in response broke about the head of the Deputy a bottle of soft drink. Pashinsky shot the offender in the leg, but shot in self-defense or first pulled out a gun for intimidation and threats – is still unknown. The testimony of the parties to the conflict regarding this vary. The investigation militiamen have promised to complete by March.
Comments
comments