In the Internet appeared the video with the Ukrainian military positions on the arc Svetlodarsk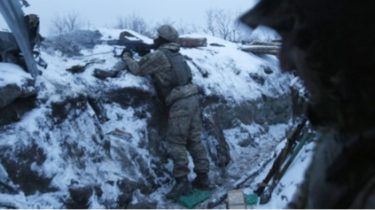 In the Internet appeared the video with the Ukrainian military positions on the arc Svetlodarsk
© Facebook/ Anatoly Stepanov
18 Dec fighters unleashed a fierce battle in the area.
In the Internet appeared the video with the Ukrainian military, which took part in the battles on the arc Svetlodarsk.
The video on his page in Facebook published photo journalist Anatoly Stepanov.
"We captured from separatist positions. All night flying mines. They go then closer, then farther away from the trenches. Sometimes loudly exploding grenades from the AGS. To the enemy two hundred meters and soldiers to prevent shoot through the space in front of the trenches. From time to time ties up infantry combat. The guys in positions they say that this is nothing compared to shelling a week ago when these came trenches of various calibres", – is spoken in the message of the photojournalist. So, in the video you can hear the gunfire during the fighting and arguments of ATO soldiers about the conflict in the Donbas. "We are just protecting their Homeland, their native land. Not the country – that the land", – is spoken in the video.
Read also: ATO Soldiers occupied an important height on the arc Svetlodarsk: this will reduce the fire fighters – Poltorak
As reported, on December 18 militants unleashed a fierce battle with the military forces of the antiterrorist operation in the area of Svetlodarsk arc, in the Donetsk region. According to the speaker of the defense Ministry on ATO Andrei Lysenko, in the area of combat in the first day killed five Ukrainian soldiers, six were wounded and ten more were injured and suffered concussion.
As of 23 December in this area nine military were killed, 35 were injured, 17 – injury, 11 injury, a total of 72 people.
Comments
comments