The constant attacks on the arc Svetlodarsk. The soldiers ignore provocations for the sake of innocent people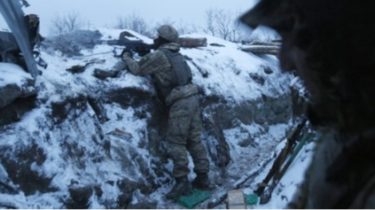 The constant attacks on the arc Svetlodarsk. The soldiers ignore provocations for the sake of innocent people
© Facebook/ Anatoly Stepanov
For the last day on the arc of a wounded Ukrainian military.
On Svetlodarskoye, where at the end of December after a powerful fighting militants retreated, does not stop the fire, mostly provocative.
What is happening on the arc fighters called relative calm. However, heavy artillery and flying here at night and during the day you hear strelkotnya, says the story TSN.19:30.
According to the soldiers, the battles here occur daily, the militants do not goatse nothing and use every opportunity for provocation.
See also: rocket-propelled Grenades in all directions and reduce attacks by half. Digest ATO
For the last day on the arc, one wounded. Two nights local position, the fighters were covered with mortar fire, not as strong as in December. But mention of those battles, are recognized Ukrainian soldiers, they are still afraid.
The current fire fighters called the silent. Day fighters shoot more often, but only from rifles and machine guns. The attack is Pro-Russian mercenaries are not going to believe the defenders. Shooting they need for the other.
In the area of ATO record number of attacks since the beginning of the new year
TSN. 19:30
Today, 20:51
Add to favourites
Over the past day Pro-Russian terrorists 52 times fired at positions of our military. Battles were fought on the site Novozvanovka-the Trinity, the enemy broke the silence in the Village Lugansk, hot in the coastal Water and Shirokino. More attacks were on the arc Svetlodarsk, there is recorded a half of all cases of ceasefire violation by the enemy. During the day, no Ukrainian military were killed, but one wounded.
"Our enemy is strengthening his new positions, today it is evidenced by the attacks that they couldn't get out and could not prevent them from these positions a little bit to do," — explained Oksana Yakubova, the Deputy commander of 54 battalion of the brigade.
To interfere with the militants to shoot in different directions, the military does not particularly want. Try not to respond to fire so as not to endanger local residents.
The village of Lugansk, by the way, close to the line of fire. Last month went away from there almost every second resident. Locals say that the militants are "allowed" mines, from which the Windows of the houses fly glass. Residents complain that the nerves are not in order and you have to "work at the hospital."
Correspondents TSN Mariana Buhan, Ivan Golovach and Stanislav Karanchuk.
Comments
comments