At KCSA explained whether the preparation for "Eurovision" on the tariffs for Kiev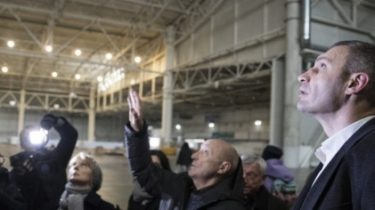 At KCSA explained whether the preparation for "Eurovision" on the tariffs for Kiev
© UNIAN
Funds are needed for maintenance work on power grids.
Electricity tariffs will not change because of Ukraine's preparation to holding of the song contest "Eurovision-2017", which will be held in Kiev.
About it reported in a press-service of the Deputy Chairman of KSCA Peter Panteleev, transfers "Ukrainian truth".
"The repair work on the power grid, which will be held in the framework of preparations for the song contest "Eurovision", will not entail the increase of tariffs for inhabitants of the capital", – explained the official.
See also: Danilko on "Eurovision 2017" in Kiev: I Want to this time the contest did not become a disgrace
According Panteleyev, repair of electrical installations and power lines to improve power quality of electricity International exhibition centre will use the funds repair Fund of PJSC "Kyivenergo".
"These works will be carried out in the framework of the repair Fund of the company. Emphasize that the increase in electricity prices for residents of the capital in connection with holding of "Eurovision" will not" – summed up the Deputy Chairman of the KSCA.
Recall that on 8 December, the Executive producers of "Eurovision 2017" Alexander Harbin and Victoria Romanova presented a report on Ukraine's preparations for the competition in Lausanne, Switzerland. After reading it, the European broadcasting Union have no doubt that the capital of Ukraine's worthy to host the international music competition next year.
The representatives of Ukraine during the General Assembly of the EBU presented the team of "Eurovision 2017" and the work done in preparation for the song contest. In particular, it was announced the budget for the contest in Kiev. He is 655,7 million, of which 455,7 million hryvnia provided for in the draft budget of Ukraine, and another 200 provides the host-city of Eurovision song contest – Kiev.
Comments
comments