Banknote of 1000 hryvnia, the national Bank believes the optimal introduction of new bills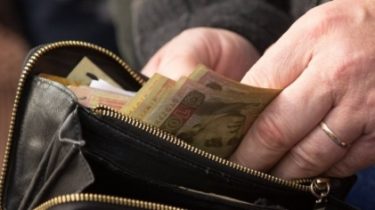 Banknote of 1000 hryvnia, the national Bank believes the optimal introduction of new bills
© UNIAN
The intrigue about who might be depicted on the banknote, is still preserved.
Very soon in Ukraine may appear to the bill of 1,000 hryvnia.
About it in interview to "the Left Bank" said the Deputy head of the NBU Dmitry Sologub.
Thus he confirmed the hint of Valeriya Gontareva to the possibility of the emergence in Ukraine of bills of large denomination.
See also: the Mint showed the Ukrainians how the printed hryvnia
Asked by journalists about the dangers of the introduction of such banknotes, Sologub agreed that the overall appearance of 1,000 hryvnia can stimulate the shadow economy.
However, Deputy Gontareva said that innovation could become the optimum for the Ukrainian economy.
"If you're doing a really big bill, it stimulates the shadow economy. As, for example, talking about the Euro. That € 500 be removed, because it is the favorite denomination of counterfeiters or drug dealers. And our calculations showed that in terms of how a change in monetary base change in the price level in the country, optimally still, the introduction of this bill," said Sologub.
However, the Deputy head of the NBU refused to comment on who is depicted on the banknote, however, said that the intrigue will persist for long.
We will remind that earlier the emergence of 1,000-hryvnia banknotes hinted the head of the National Bank of Ukraine Valeriy Gontareva broadcast Radio News. The host asked her whether or not such a bill next year in connection with raising the minimum salary up to 3200 UAH. Periodically appears information that this bill already, and that it depicts the writer Panteleimon Kulish. "I can tell you that there is no Panteleimon, and the rest yet keep in secret," – said Gontareva.
Comments
comments