Fore: it became known how much the US spent to combat Russian aggression in Europe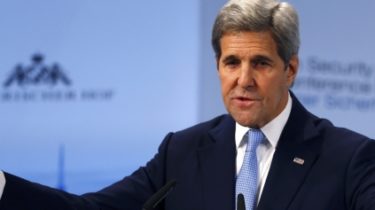 Fore: it became known how much the US spent to combat Russian aggression in Europe
© Reuters
Kerry spoke about the support of Ukraine.
USA has been consistent in the support of its allies and partners in Europe against the backdrop of threats that emerged with the beginning of Russian aggression against Ukraine, and spent on the support of more than $ 3 billion.
This was stated by U.S. Secretary of state John Kerry, writes UKRINFORM.
"In a transatlantic space, we strongly advocated and supported Ukraine and reacted to Russian provocations by extending the support of our allies in Northern and Central Europe", – said the head of the US State Department.
"$3.4 billion is the amount that we spent to help our friends on the front lines, to help them build their defense and guarantee their security," said Kerry.
Read also: US intelligence hinted that the hacking in Russia it is possible not only to respond to sanctions
Earlier newly elected President of the United States Donald trump promised that information about Russia's intervention in the US elections will be known on 3 or 4 January. Himself elected President doubts that the Russian hackers involved in hacking computer networks of political organizations in the United States during the election campaign.
We will remind, in the end of 2016, the US imposed new sanctions against Russia in connection with cyber attacks that affected the election of the President of the United States.
In the list of sanctions – the head of the Main Directorate of the General staff of the armed forces (GRU) Igor Korobov, his deputies Vladimir Alekseev, Sergey Lisunov and Igor Kostyukov, and hackers Bilan, Alexey and Evgeniy Bogachev.
In addition, the US has expelled 35 Russian diplomats and their families. Also, the U.S. government shut down two of the Russian diplomatic mission in new York and Maryland on suspicion of espionage.
Previously, the CIA said that Russia is deliberately carried out attacks during the election race, to help Donald Trump win the election, not in order to undermine the credibility of the electoral process of the country. In the investigation established the identity of those who were closely associated with the Russian government and WikiLeaks leaked thousands of messages of Democrats, including mail to the Chairman of the election campaign of Hillary Clinton.
The Chairman of US National intelligence said that Russia is a threat to the national interests of the States
TSN. 19:30
Yesterday, 21:02
Add to favourites
Russia is a threat to the national interests of the United States because of the aggressive cyber program, said James Clapper before the armed services Committee of the U.S. Senate. He stressed that the Kremlin's meddling in the American presidential elections – unprecedented. But said: to answer they can not only sanctions.
Comments
comments