House, apartment and boat. The court has arrested assets Yanukovych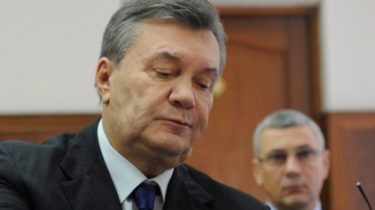 House, apartment and boat. The court has arrested assets Yanukovych
Viktor Yanukovych© Reuters
A fugitive suspected of committing a series of crimes.
The Pechersky district court of Kiev arrested a dwelling house, an apartment, two garages and the vessel deprived the title of President of Ukraine Viktor Yanukovych.
This is stated in the court order of December 29, 2016, pass Ukrainskie news.
According to the Agency, the Prosecutor's office asked the court to seize the property of a fugitive, and it was his residential house, flat, two garage, two Parking spaces in the basement Parking garage and the brig (two-masted vessel with square sails) built in 2000.
See also: Accusations against Yanukovych will be based on the testimony of ex-Deputy of the state Duma of the Russian Federation.
The text specifies that Yanukovych is suspected of committing crimes under part 1 of article 111 (high treason), paragraph 5 of article 27, part 3 of article 110 (intentional complicity in acts committed with the aim of changing the boundaries of the territory and the state border of Ukraine in violation of the order established by the Constitution of Ukraine) and part 5 article 27, part 2 of article 437 (aiding in waging aggressive war) of the Criminal code.
Prosecutors urged the court to impose arrest on the property of the former President by the prohibition of alienation and disposition of the specified property and the court granted the petition in full.
Recall that on 14 December the Pechersky regional court of Kiev granted permission for the detention of ex-President Viktor Yanukovych and deliver it to the court. Thus, the court satisfied the request of the military Prosecutor Krivenko on permission to detention of Yanukovych, "with the purpose of his drive to participate in the consideration of the petition for application of a preventive measure in the form of detention".
On November 28 Yuriy Lutsenko to Svyatoshynsky district court of Kyiv announced that Viktor Yanukovych declared suspect in treason – the content of the suspicion is declared orally, namely, the notice was sent to all known addresses of the former President. On the same day after reading this suspicions the Military Prosecutor presented his lawyer Igor Fedorenko, who was present in court.
Viktor Yanukovych will be judged the same in the Pechersk court of the capital
TSN. 19:30
3 Jan, 20:37
Add to favourites
The Kyiv court of appeals dismissed the petition of former President of Ukraine to transfer his case to another court. The panel of judges refused to Yanukovich in a video interview. At today's meeting, none of the advocates of the fugitive chief of the country does not appear, but staff believes that these statements are an attempt to delay the case.
Comments
comments