The court gave permission for the detention of Yanukovych and ex-Minister Zakharchenko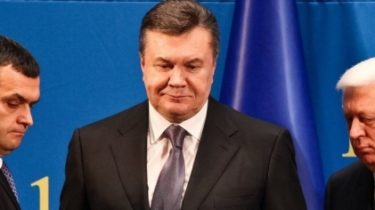 The court gave permission for the detention of Yanukovych and ex-Minister Zakharchenko
© UNIAN
The investigator is urged to detain suspects in order to avoid destruction of evidence.
Pechersk court of Kyiv gave permission for the detention deprived the title of President of Ukraine Viktor Yanukovych and former interior Minister Vitaly Zakharchenko.
The decision was based on the so-called "Church business" in respect of unlawful deprivation of liberty by Alexander drabinko, writes up.
The court on 3 January at the request of the investigator of GPU allowed to detain Yanukovych, Zakharchenko and the ex-head of Kiev police Valery Koryak.
Read also: Rada gave permission for the prosecution of Novinsky
The investigator said the suspects are hiding from investigation and trial, so in order to avoid destruction of evidence and the impact on victims, witnesses and experts, he urged to apprehend and bring suspects to court for appointment of a measure of restraint in form of detention.
Zakharchenko, Yanukovych and Koryak are suspected of illegal deprivation of liberty Alexander drabinko – personal assistant to the late Primate of the Ukrainian Orthodox Church Metropolitan of Kiev and all Ukraine Vladimir. Investigators believe that Yanukovych and his entourage pressured the deceased Metropolitan, to force him to abdicate.
Earlier General Prosecutor of Ukraine by suspected ex-President Viktor Yanukovych on paper – illegal imprisonment or kidnapping. During the investigation proceedings concerning unlawful deprivation of liberty, personal assistant of Metropolitan Volodymyr, Archbishop Pereyaslav-Khmelnitsky and Vishnevsky Alexander (drabinko) was sufficient evidence linking Yanukovych to the crime. In this case, in addition to Yanukovych, the suspects are former law enforcement leaders Zakharchenko and Koryak, the people's Deputy Vadim Novinsky, as well as other law enforcement officials.
Comments
comments