In the United States has threatened Russia with an unexpected response to cyber attacks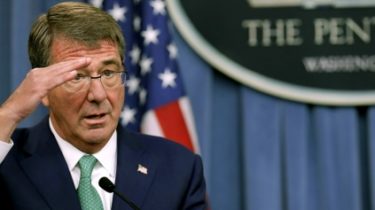 In the United States has threatened Russia with an unexpected response to cyber attacks
© Getty Images
The Pentagon has called the sanctions which are only the beginning.
The head of the Pentagon Ashton Carter told about a possible response to the Russian cyber attacks during the elections in the United States.
He stated this in an interview with NBC news.
According to Carter, the sanctions imposed by the Obama administration in response to the Russian cyber attacks "are the beginning, not the end of the floor, not the ceiling."
He stressed that further actions will define the new Congress and the new administration.
"I think we should not limit ourselves to cybermelli, when aggression is carried out by cybermelli. This is partly true. I don't think it should be a military or a purely military response," he said.
Also read: the Cyber attack on the United States helped Russia and Russia Today Internet trolls – the intelligence report States
We will remind, the American special services have accused the President of Russia Vladimir Putin in the order of a hacker attack with the purpose of influencing the results of elections of the President of the United States. This is stated in the declassified part of the report of the office of the Director of national intelligence of the United States. Despite the weekend, it caused a storm in American politics.
Part of the report, which decided to declassify, it is 25 pages, which contain evidence and analysis of national intelligence of the United States. We are talking about the personal responsibility of the Russian leadership and the personal order of Putin to interfere in the election results, to increase the chances to win of Donald trump for the highest office of the United States. The actions that would lead to such a result, undermining the citizens ' confidence to trump rival, Democrat Hillary Clinton, through the dissemination of her false information.
Thus, it is not only cyber attacks, but also a propaganda campaign that was carried out through the funded by the Russian media and through paid-user networks.
The Chairman of US National intelligence said that Russia is a threat to the national interests of the States
TSN. 19:30
5 Jan, 21:02
Add to favourites
Russia is a threat to the national interests of the United States because of the aggressive cyber program, said James Clapper before the armed services Committee of the U.S. Senate. He stressed that the Kremlin's meddling in the American presidential elections – unprecedented. But said: to answer they can not only sanctions.
Comments
comments