Azarov told the details of creating a "government in exile"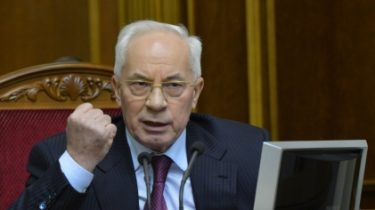 Azarov told the details of creating a "government in exile"
© zn.ua
According to him, it is quite possible, if the country will develop the necessary prerequisites.
Former Prime Minister of Ukraine Mykola Azarov told about the plan to create a "government in exile".
He said this newspaper "Izvestia".
"Needs to Mature in the circumstances and conditions that had a government in exile. First of all, these conditions have to ripen in Ukraine itself. When the ruling elite, which illegally seized power, almost not able to carry out their functions, and the people will demand an alternative government then there will be such conditions," – said Azarov.
He also said that it plans to appeal to international courts regarding the recognition of the coup in Ukraine.
See also: "the Coup" in the court of Russia. Why the decision of the Moscow court of Ukraine is negligible
Recall Dorogomilovskiy district court of Moscow has satisfied the claim eks-the Deputy of the Verkhovna Rada Volodymyr Oliynyk, who asked to recognize the events in Ukraine in 2014 coup.
December 15, in Dorogomilovsky district court of Moscow started the process for the recognition of events in Ukraine 2014 coup. A lawsuit was filed by a former Deputy of the Verkhovna Rada from "Party of regions" Vladimir Oleynik. The decision of the Prosecutor General of Ukraine on refusal to initiate the corresponding criminal case he called "evidence of the usurpation of power."
In court, testified, and former President Viktor Yanukovych.
Comments
comments