Exchange of prisoners under the scheme "all for all" is possible before the end of winter – Savchenko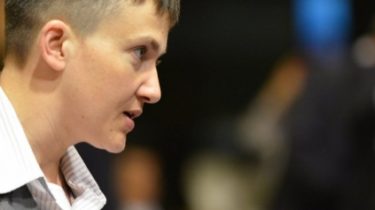 Exchange of prisoners under the scheme "all for all" is possible before the end of winter – Savchenko
© UNIAN
The Deputy assured that released today a list was 9 months.
Exchange of the Ukrainians, who are in captivity of fighters on Donbass and in Russia, in the format "all for all" is possible before the end of winter.
This was stated by people's Deputy of Ukraine Nadezhda Savchenko, writes UNIAN.
"It (the publication lists approx.ed.) will end speculation and will give the opportunity to open a window until the end of winter and to exchange all for all", she said.
According to Savchenko, published the lists of prisoners were established it team within 9 months after its release.
"They were not taken from any official of the Ukrainian side. It was a job I found some people and provided the necessary information to all relevant agencies of Ukraine", – he added.
Separately Savchenko noted that highlighted in orange names of people who are citizens of Russia, who are Russian military, "which carried out tasks to kill our people in Ukraine."
"Yellow – "DLNR". These people is the exchange of material – the equivalent of our political prisoners who are now sitting in Russia and the occupied Crimea. The rest of the list is equivalent to the exchange of our prisoners who are in the "LNR" and "DNR", – she said.
Earlier, Savchenko has published the lists of prisoners detained Ukrainians and separatists. The MP also described the classic method of exchange in three stages, which is well proved in many countries during wars.
Comments
comments