Make every effort for Your return. Poroshenko wrote a letter to the Russian prisoner Sushchenko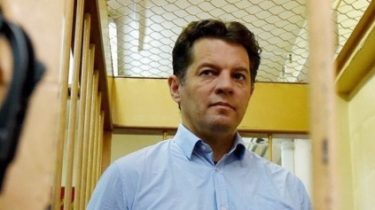 Make every effort for Your return. Poroshenko wrote a letter to the Russian prisoner Sushchenko
© Facebook/Mark Feigin
The President assured that held in Russia, a journalist going through the whole country.
President Petro Poroshenko wrote a letter held in Russia journalist Roman Sushchenko.
Wrote about this on his page on Facebook the Ukrainian lawyer mark Feigin, and publicized the letter.
"The President of Ukraine Petro Poroshenko wrote to my client, journalist Roman Sushchenko in prison," he said.
According to Feigin, today, January 10, a letter to the journalist needs to convey to the Consul.
Note, by hand, in a letter written just a reference to the Novel and the end.
"Dear Roman Putin, a difficult time is now our Ukraine, and to You hardest. Today, when You are cut off from family and friends, would like to bring You into the New year with a firm belief in the power of unity that knows no boundaries or obstacles. Your compatriots are morally with You, next. For You going through the whole country. Only in this unity we will win and endure all the trials that we meet in our life's journey. Rest assured that at home waiting for not only You, I, as President every day are working hard for Your speedy return. I wish You good health, fortitude and patience. With deep respect and optimism, Petro Poroshenko," – said in the letter.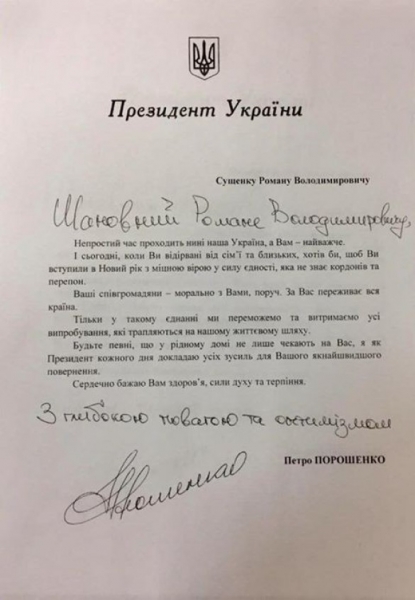 Facebook/Mark Feigin
Recall, 3 October , information appeared about the arrest of Ukrainian journalist Roman Sushchenko Lefortovo court for 2 months. Russian security forces claim that he "purposefully collected data which constitute a state secret, the activities of the Armed forces and National guard, the leak of which abroad could harm the defense of the state". Against the Ukrainian opened a criminal case on charges of espionage, are investigating. Roman Sushchenko in jail "Lefortovo" has found members of the Public monitoring Commission (CSC) in Moscow. 47-year-old journalist was in the chamber of the quarantine Department.
Comments
comments