McCain and Graham will present a new draft sanctions against Russia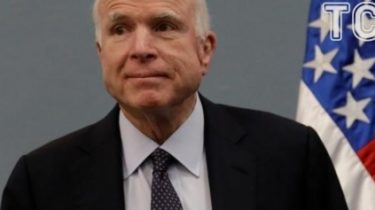 McCain and Graham will present a new draft sanctions against Russia
© Reuters
The bill will strengthen sanctions the Obama administration against Russia.
Senatori-Republicans John McCain and Lindsey Graham will present a bipartisan bill to strengthen sanctions against Russia because of its cyberwealth in the presidential election.
It is reported by Politico.
Sponsors is Senator Ben Cardin, who is considered to be the main sponsor of the bill, and seven other politicians, including Marco Rubio, Ben Sass and Rob Portman. The draft law should "send a clear message that key Republicans continue to insist on punishing Russia for its aggressive behavior, "despite the desire of the elected President to improve relations with the Kremlin, as well as depreciation on his part of the consequences of Russia's intervention in elections."
The new sanctions would impose a ban on issuing visas and freezing of assets of those who "undermines cybersecurity public or private infrastructure and democratic institutions." Restrictions may also cover agreements with the Russian defense and intelligence sectors, "potentially making it harder for banks doing business with Russian military and spy agencies."
The bill will strengthen sanctions the Obama administration against Russia, imposed in response to RF interference in the elections and its attempted annexation of Crimea in 2014. The document also would prohibit any action that implies recognition of Russian sovereignty over Crimea.
See also: In the US, explained why Putin has not come under new sanctions of the White house
As you know, was previously released a joint report of U.S. intelligence, in which they agreed that Russian President Vladimir Putin was involved in attempts to change the outcome of elections in the United States.
After that, the US President-elect Donald trump has officially recognized the Russian involvement in cyber attacks in the United States.
The us Congress will work to strengthen sanctions against Russia
TSN. 19:30
2 Jan, 21:17
Add to favourites
This was stated by Senator John McCain during a visit to Georgia. According to him, the pressure on Moscow should be strengthened because of hacker attacks during the presidential elections in the United States. In Washington sure that the Kremlin is trying to help Donald Trump win the race.
Comments
comments