The militants resumed the application of the "Putin's tactics" under Donetsk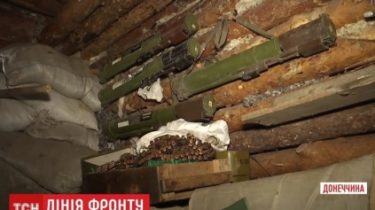 The militants resumed the application of the "Putin's tactics" under Donetsk
The civilian population again acts as a living barrier for terrorists.
The truce declared at the time of the Christmas period, peace has not brought, and with the approaching completion of the holidays, the enemy attacks become more powerful. On the front line near Donetsk fire from the occupied territory open day and night, says the story TSN.19:30.
Locals in Zaitseve once again spent the night in cellars, but to communicate about it with Ukrainian journalists don't want to. They say that after their show on national TV channels, on the occupied territory they are not allowed. "You'll be in Donetsk or Makeyevka in the basement to sit. I do not want unnecessary trouble" – explain these people. Behind the camera they say that shooting in the night is so powerful that people are reluctant to leave the shelters even when serious need.
The holidays are over, and the enemy attacks become more powerful
TSN. 19:30
Today, 20:01
Add to favourites
The truce declared at the time of the Christmas period, peace has not brought. Enemy weapons are not silent, including in the area Zaytsevy, on the border with the occupied Horlivka. There recently was relatively quiet, but right after Christmas, the militants undertook to compare the village to the ground.
Ukrainian military have information that the militants in the holidays, there was a rotation. After that the fire became intense, working mostly machine guns and grenade launchers, small arms. "In reality, the enemy is prepared. Work precisely. So they had the order," says Mat soldier with the call sign "Fierce". Resumed and using "Putin's tactics," that is, fire from behind civilians. "Normal will not name," – does not conceal the aversion to this style of warfare Ukrainian soldiers. To shoot back – so to endanger ordinary people. Therefore, the weapon of the Ukrainian military in takoj situations mostly silent.
As previously reported, during the 10 January until the evening it was recorded 26 attacks on militant positions of the APU. As a result of actions of the enemy killed one soldier.
The TSN reporter Mariana Buhan
Comments
comments