The leadership and members of the Board of the national Bank receive monthly 138-155 thousand hryvnias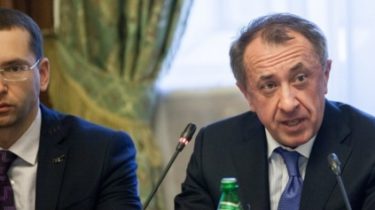 The leadership and members of the Board of the national Bank receive monthly 138-155 thousand hryvnias
The Chairman of the NBU Council Bohdan Danylyshyn (right) and Council member Victor Kosyuk© national Bank of Ukraine
Taxes account for 30 thousand hryvnias.
The salary of the Chairman of the Board of the National Bank of Ukraine Bohdan Danylyshyn is almost 155 thousand UAH, and members of the Council – 138,5 ths.
"With 154 850 UAH withholding tax on income of physical persons – UAH 2322 27873 and grn. – military training", – said Danylyshyn of his or her salary.
That is, the net he gets 124 thousand 655 UAH.
"In addition, approved the ratio of the remuneration of the members of the Board of the NBU in the amount of 0.85 to the maximum wage of a member of the Board of the National Bank of Ukraine. The remuneration of members of the NBU Council is much lower than the remuneration of Board members of certain commercial and state banks. In addition it should be noted that the level of wages of the management team of the National Bank, which controls balance, which is much higher than the state budget, and operates financial instruments, an analogue which does not exist in the country and therefore the risks involved are significantly lower than the wages of most banks, a number of state corporations and foreign similar structures," said he.
How much salary is given to the Chairman of the NBU Valeria Gontareva, read on Dnia this link.
Comments
comments